Unleash the Power of Email Marketing Automation with Retainly
Discover the unparalleled efficiency and effectiveness of Retainly's email automation capabilities.
Effortlessly craft engaging email marketing campaigns in minutes using Retainly's intuitive drag-and-drop builder, perfect for bulk email sending and mass email distribution. Choose from our vast collection of free email templates tailored to enhance your brand's distinctive style. With our user-friendly interface, you can design sophisticated emails without any coding skills, making it ideal for all your email marketing and mass email-sending needs.
A Step-by-Step Visual Guide to Building the Perfect Email Campaign
Upload Your Customer Base
Import your existing customer data with ease
Create Needed Segment of Customers
Target the right audience with intelligent segmentation
Create a Branded Email Template
Design professional emails with our intuitive editor
Set Up Rules and Events for Automated Flow
Configure automation rules to deliver timely, targeted content
Launch Your Email Campaign
Set your email campaign in motion with a single click
Track Effectiveness and Get Real-Time Results
Monitor success and optimize your strategy with real-time analytics
Ready to see Retainly in action?
Create captivating email campaigns in minutes with Retainly's intuitive drag-and-drop builder. Select from our extensive library of pre-installed templates, and customize them to reflect.
Advanced Segmentation and Personalization
Enhance customer engagement with Retainly's advanced segmentation and personalization tools.
Segment your audience based on behavior, preferences, and demographics to ensure your messages resonate with each individual.
Deliver personalized content that speaks directly to your customers, fostering lasting connections and brand loyalty.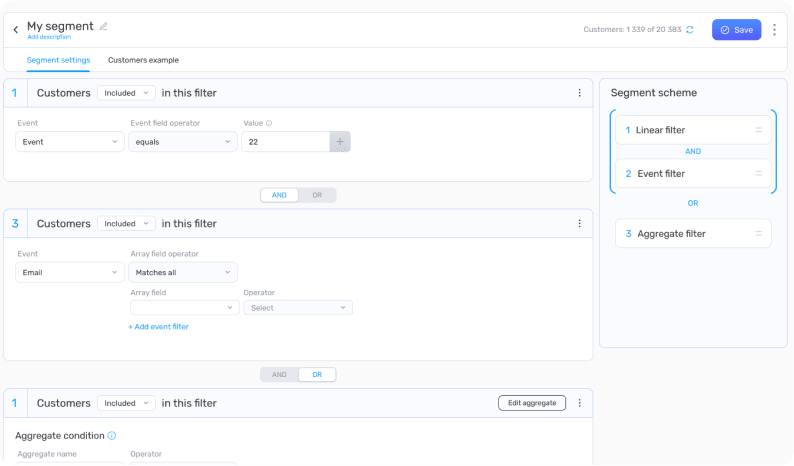 Real-Time Analytics and Reporting
Stay informed and make data-driven decisions with Retainly's comprehensive analytics and reporting features.
Track key metrics such as open rates, click-through rates, and conversions in real time, and use this data to fine-tune your email campaigns for maximum impact.
Automated Trigger-Based Messaging
Engage your customers immediately with Retainly's automated trigger-based messaging.
Set up workflows based on specific customer actions, events, or time-based conditions to deliver targeted content when it matters most.
Keep your customers connected and coming back for more with timely, relevant messaging.
A/B Testing and Optimization 
Ensure your email campaigns perform their best with Retainly's built-in A/B testing feature.
Experiment with different subject lines and content variations, and send times to identify the winning combinations and achieve successful outcomes.
Continuously optimize your campaigns to maximize engagement and conversions.
Seamless Integration 
Integrate Retainly's email automation effortlessly into your existing marketing stack.
Connect with popular CRM systems, e-commerce platforms, and other tools to synchronize data and consolidate your marketing efforts.
Experience seamless, hassle-free integration that supports your marketing objectives.
Get Started with Retainly 
Take advantage of the opportunity to revolutionize your email marketing strategy. Sign up for Retainly's demo today and harness the power of our advanced email automation tools. Experience the difference Retainly can make in driving customer engagement and building enduring relationships.
FAQ Block
Find answers to common questions and concerns about Retainly's email automation feature. Our FAQ section covers topics ranging from getting started and importing email lists to tracking campaign success and compatibility with existing platforms.
Getting started with Retainly's email automation is a breeze, even for those with little or no email marketing experience. The user-friendly platform and comprehensive documentation make it easy to navigate each step of the process.
Follow these straightforward steps to get started:
Visit their website and sign up for a Retainly account.
Use the built-in integrations and APIs to seamlessly integrate Retainly with your existing customer data, apps, or tools.
Build your audience segment by importing and filtering contacts based on your specific goals.
Select from various customizable email templates, or create your design using the intuitive drag-and-drop email builder.
Establish automation triggers tied to particular customer actions or events, such as sign-ups, purchases, or periods of inactivity.
Set up automated workflows to send timely, personalized emails to your customers.
Keep an eye on the performance of your workflows with Retainly's analytics and reporting tools, allowing you to fine-tune your strategy.
Regrettably, you cannot directly import your existing email lists and templates into Retainly. However, if your email templates are in HTML format, you can swiftly recreate them using Retainly's HTML email editor.
With Retainly, you can create various automation workflows tailored to your marketing needs. Craft workflows that target specific segments or initiate based on particular events, allowing you to send customized and timely communications to your customers.
Retainly's built-in filtering functionality allows you to narrow down your target audience further, leading to more effective campaigns. Additionally, the platform supports various communication channels, including email, SMS, web, and mobile pushes, allowing you to select the optimal method for engaging with your customers.
Whether your goal is to send welcome emails to new subscribers, re-engage inactive customers, or provide personalized product recommendations, Retainly's automation workflows equip you with the tools to refine your marketing strategies and achieve superior results.
In Retainly, you can gauge the success of your email campaigns using built-in analytics. These comprehensive metrics offer valuable insights into various aspects of your campaign performance. You can monitor the number of successful and unsuccessful emails sent, observe the number of people who opened an email and track the click-through rate on the links within your emails.
By evaluating this data, you can discern trends, assess the effectiveness of your email content and design, and make informed decisions to fine-tune your email marketing strategies. This approach enables you to consistently enhance your campaigns and better engage with your audience, ultimately resulting in higher conversion rates and more robust customer relationships.
Although Retainly does not offer direct integrations with CRM or e-commerce platforms, you can effortlessly connect to your existing systems using Retainly's API. By configuring webhooks, you can transmit new customer data and events from your CRM or e-commerce platform to Retainly.
This method allows you to incorporate Retainly into your current infrastructure, enabling you to harness its powerful email automation and marketing features alongside your existing tools. To begin, refer to the Retainly documentation for instructions on utilizing the API and establishing webhooks for smooth data exchange between your systems.