Introduction to Campaigns #
Campaigns in Retainly are designed for situations where users seek to send a specific communication to a set of customers at a predetermined time without creating complex workflows. These campaigns are particularly useful when the goal is to deliver timely and targeted messages with minimal configuration. Here are a few cases where using one-time campaigns can be beneficial:
Product Launches: Announce the release of a new product or service to a selected segment of customers.
Seasonal Promotions: Send out holiday greetings or promotions tied to specific occasions such as Black Friday or Christmas.
Event Invitations: Send invitations to webinars, workshops, or other events to a targeted group of customers.
Customer Surveys: Collect feedback from customers by sending a one-time survey.
Creating a Campaign #
To create a campaign, follow these steps:
1. Navigate to Sidebar -> Campaigns.
2. Click on the Create button.

3. You will be redirected to the Campaign Creation Page.
4. Assign a unique name and color to your campaign using the top bar.

5. Choose the customer segment you want to target with this campaign.

6. Select the type of communication (e.g., email, SMS, etc.) and choose the appropriate template for your campaign.

7. Optionally, you can add tags to the campaign for easier search and categorization in the future.

8. Click the Save button to save the campaign as a draft. After saving, the Run button will appear, allowing you to launch the campaign. Refer to the "Running a Campaign" section for further details.

Running a Campaign #
After saving the campaign draft, follow these steps to launch it:
1. Click the Publish button in the top bar.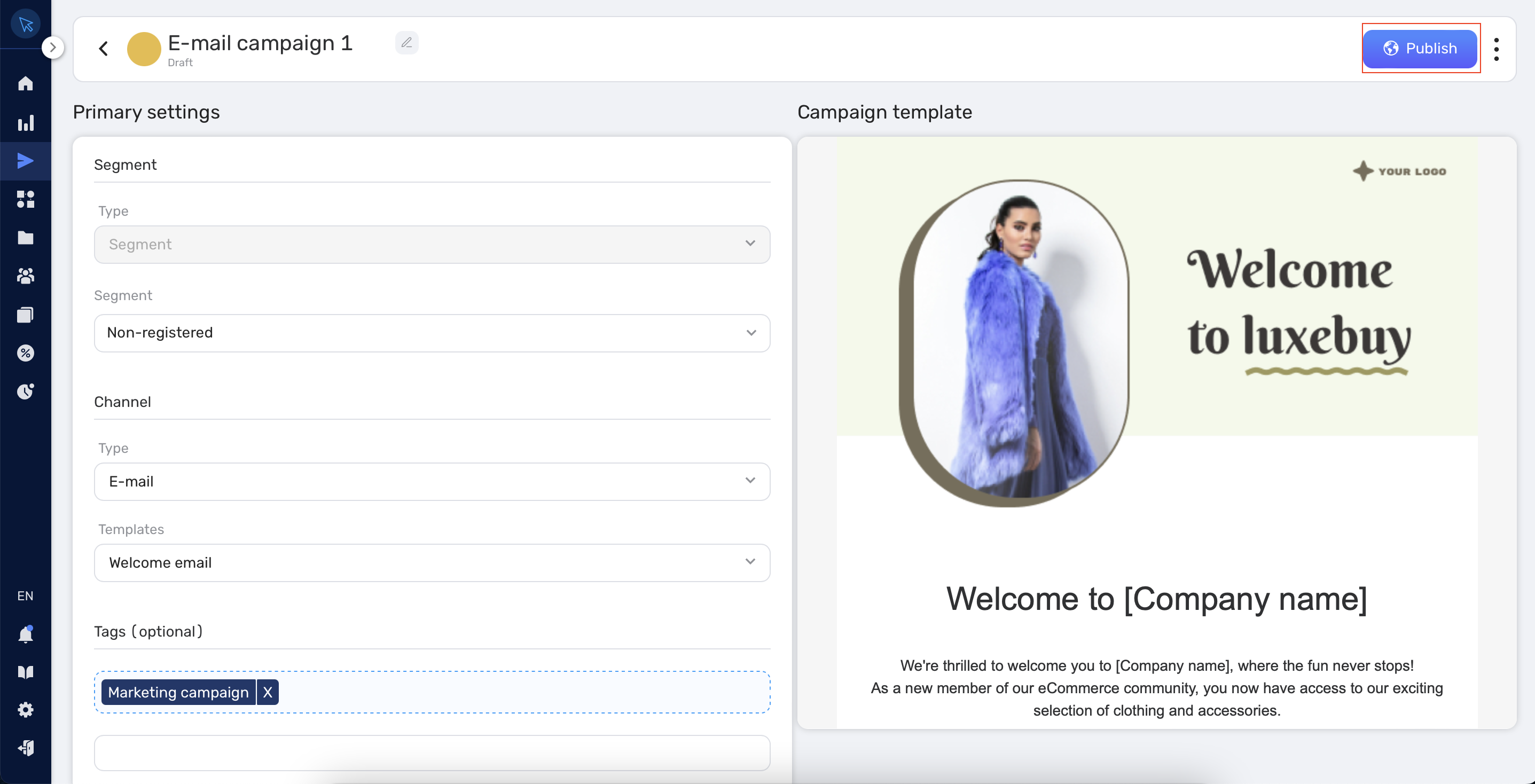 2. A pop-up will appear asking you to choose the type of campaign launch: one-off or repeating.
3. For a one-off launch, specify the date and time for the campaign to be sent or choose to send it immediately.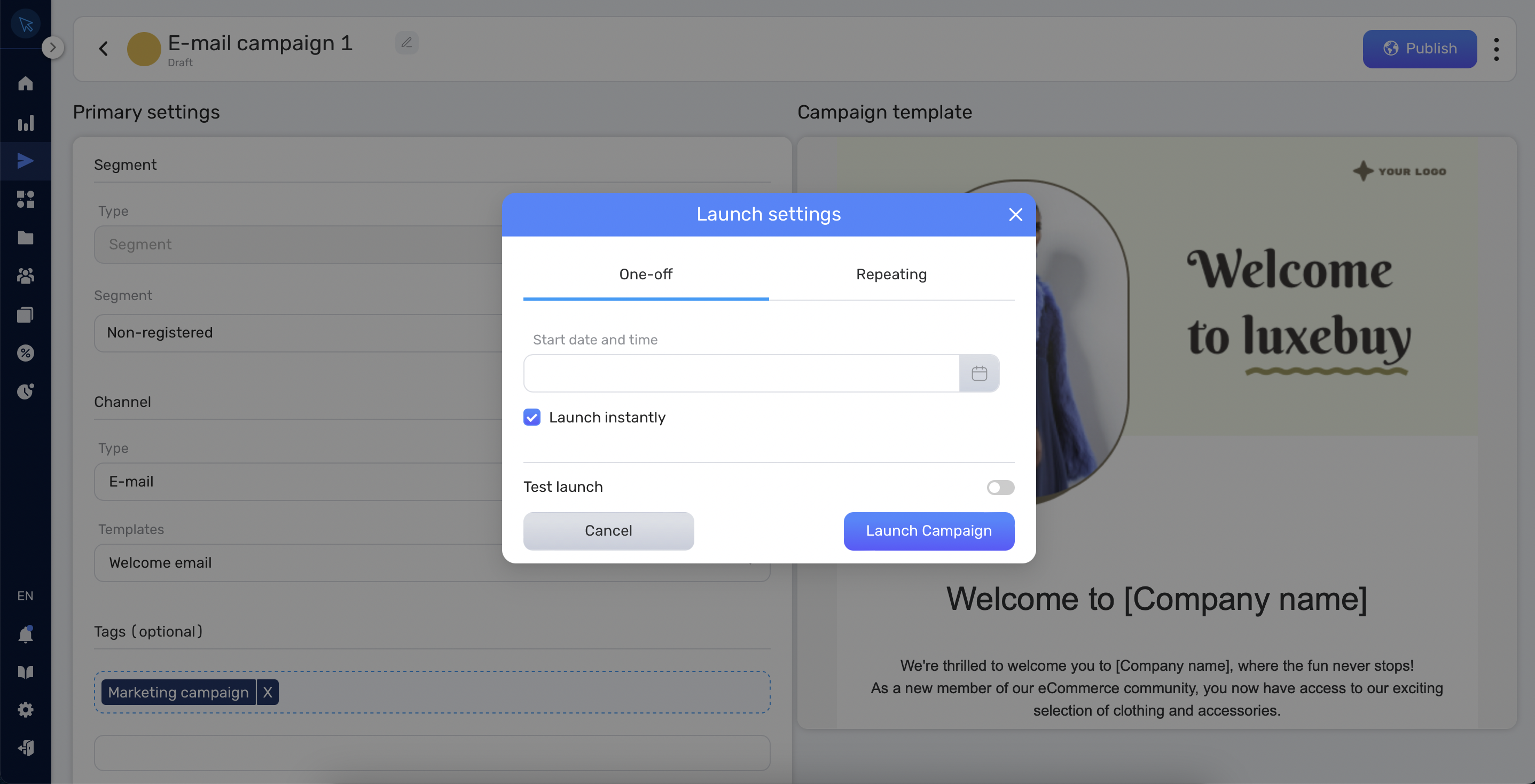 4. If you opt for a repeating campaign, set the start date, end date, and recurrence pattern (daily, weekly, monthly) or use CRON expressions for custom schedules.

5. Once everything is set, click the Run button to launch the campaign.
Checking Your Campaign Schedule and Viewing Campaign Analytics #
After your campaign is up and running, you'll likely want to view its schedule and analyze its performance.
1. Go to Sidebar -> Campaigns.
2. You'll land on the campaigns index page, which displays a calendar view. You can switch between months to see upcoming campaign launches.

3. For a different perspective, switch to the List view by clicking the corresponding button on the top bar.

4. If you have numerous campaigns and need to find a specific one, use the search function to locate it by name or tags.
5. To check the performance of your campaign, click on the desired campaign. This will take you to the campaign's analytics tab, where you can view various metrics and insights related to the campaign.

This concludes the guide on using the Campaign feature in Retainly. Utilize this feature to efficiently communicate with your customers and analyze the outcomes to make data-driven marketing decisions.