What is Quiet Hours? #
Quiet Hours is a feature in Retainly that allows you to define a specific time frame during which no communications will be sent out from a workflow. This ensures that even if a user enters a workflow during, for instance, the middle of the night, they won't immediately receive communications. Instead, the communications will be on hold and will be triggered once the quiet hours have passed.
How to Set Up Quiet Hours? #
Follow the steps below to set up quiet hours for your workflow:
1. Begin creating a workflow or navigate to an existing one.
2. In the workflow editor, proceed to Additional Workflow Settings (Kebab menu).
3. Look for and click on the "Quiet Hours" option.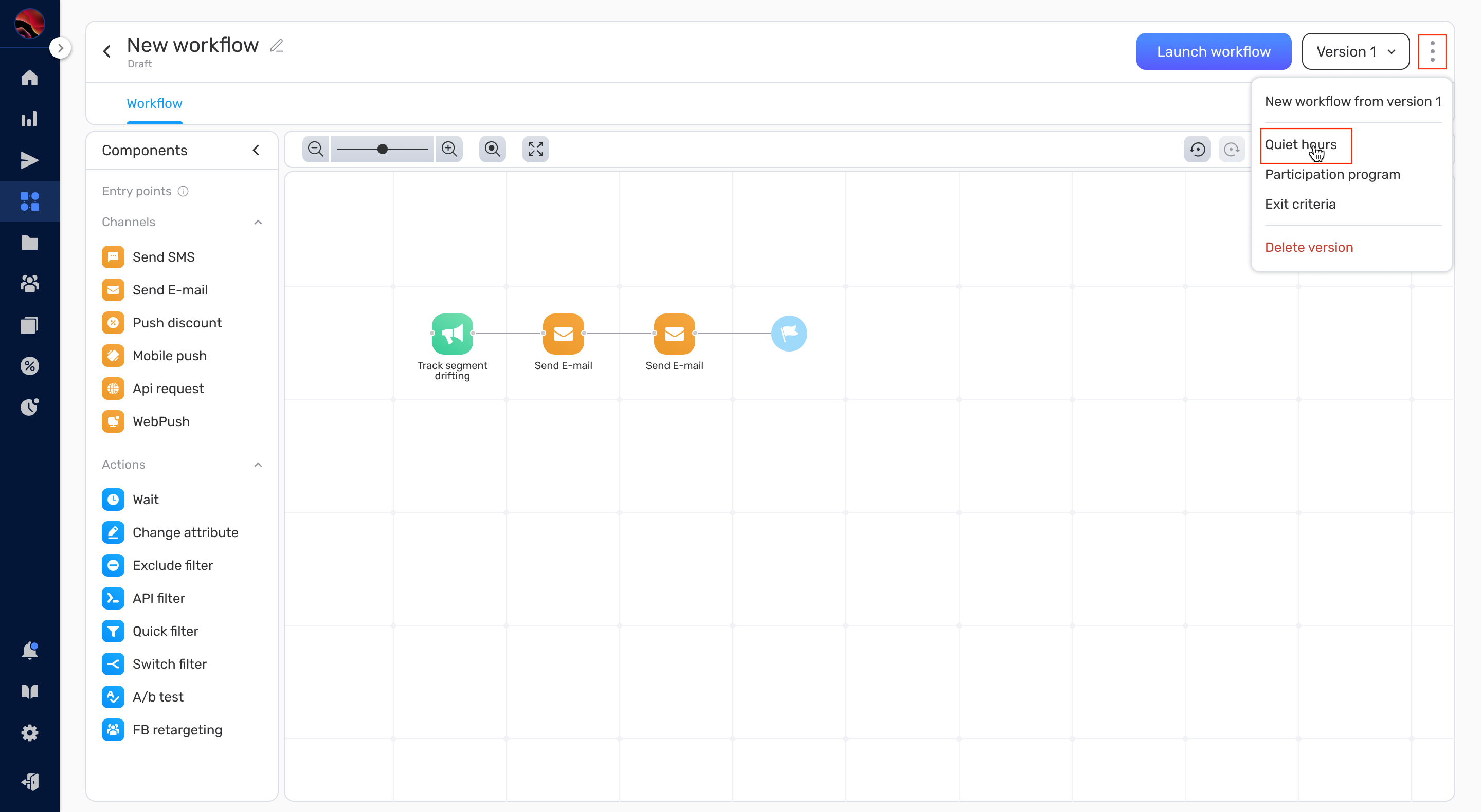 4. A popup with quiet hour settings will appear. Here, you can:
a. Select the Start Hour – This is the time when the quiet hours will begin.
b. Select the End Hour – This is the time when the quiet hours will end.
Note: Make sure the selected time frame represents the hours you don't want the workflow to send out any communication.

5. Once you've defined your desired quiet hours, click on the Save button to finalize your settings.
6. With quiet hours now configured, you can Launch the workflow as usual.
Timezone Consideration #
The timezone for the Quiet Hours setting is determined by the timezone set in your workspace settings. It's essential to ensure that the workspace settings reflect the desired timezone to make certain that the Quiet Hours function effectively for your target audience.
Important Note #
The Quiet Hours setting is specific to the individual workflow where it was set up. If you have multiple workflows, and you wish to implement quiet hours for each of them, you will need to configure the quiet hours separately for each workflow.
By utilizing the Quiet Hours feature, you ensure that your communications are timed appropriately, respecting the potential inactivity or unavailability of your users during certain hours